Today I was out of the water and back on dry land in the Boisbuchet workshops. As Day 3 begins and the presentation of our object is looming, I started early fro Friday is the day after next. I further tested methods of 'cold joining' discovering some beautiful connections formed with tapered chisels and even the humble workshop vice. The Vice performed as a press, a hammer, and a texture maker. Pressings and twists acted like rivets interlocking elements to form a new aesthetic and joining method.
Other methods of joining where explored with the last test for the day being a pice of PVC tube being squeezed and twisted. A sample was made with timber and copper and real design magic happens.
Things are really being stretched in all directions and my ideas are like a hose filling a swimming pool on a hot French summers day – It just can't happen quickly enough.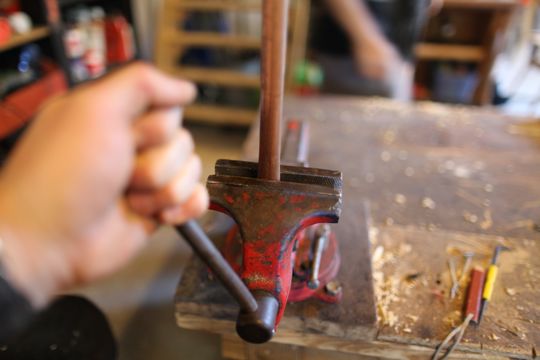 This document – 'DAY 3 – MADE BY VICE – DOMAINE de BOISBUCHET France' is authored by Dean Homicki. It is free to copy, use and alter providing attribution and reference to deanhomicki.com.au is noted. 'DAY 3 – MADE BY VICE-DOMAINE de BOISBUCHET France' – Dean Homicki – Designer, Entrepreneur, Mentor